Germaine Tremmel And Pat Brock Interview/Moccasin Telegraph Project
https://soundcloud.com/robertlundahlfilms/germaine-tremmel-and-pat-brock-interviewmoccasin-telegraph-project
The purpose of the project is simple, to find venues and forums for the Grandmothers/Elders to tell their story and to document the process. What we envision is a series of educational forums, starting in California and then moving on from there, visiting schools, churches, community groups. We feel the California connection is really important, especially given what we may be facing after 1/20.
STANDING ROCK – THE MOCCASIN TELEGRAPH PROJECT – TODAY IS A GOOD DAY TO LIVE! 
Help the Elders of the Standing Rock, Lakota Nation — and The Greater Sioux Nation, Oceti Sakowin, to share the history, the traditions, the languages, the connection to the land base of the Lakota and Oceti Sakowin, with the ultimate goal of making this information available worldwide through a virtual library. This initiative is being called The Moccasin Telegraph Project.
A new dawn is setting in, an adventure begins.
Non-natives with an interest in Native American history and affairs will no doubt rejoice too at this news. You may know of the mystery that can veil "all-things-Native American" and you may have searched the net avidly for information, coming across unverified sources, getting confused and dejected at the numerous and sometimes contradictory accounts of events, and felt discouraged. Take heart, this is all about to change!
I let the grandmothers introduce themselves and the Moccasin Telegraph Project –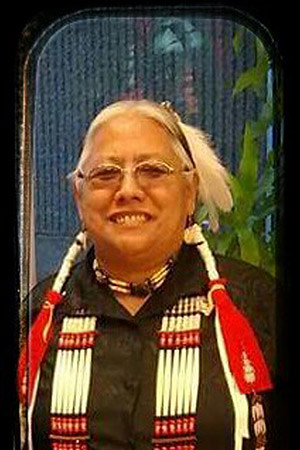 – Germaine Tremmel, Tjaoya Tewanka Pewee, direct descendant of Sitting Bull:
"I am a Lakota. I speak Lakota but I come from the Hunkpapa group and I am a chief and overall leader of 79 000 people.
My native Lakota name is Tjaoya Tewanka Pewee which, in English, means `Lady-Seen-by-her-Nation'. I come from the Sitting Bull group and I grew up where they killed Sitting Bull 2 on the Standing Rock reservation in South Dakota. My name was given to me when I was four months old and its meaning is `you will lead your people and the nation will follow you'. This same name has only been held previously by one other woman, and that was Sitting Bull's sister.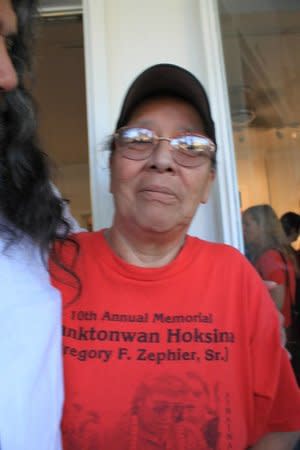 "The Water Song" was composed by Alex Turtle, Diné (Navajo) and Southern Cheyenne, and Chenoa Egawa, Lummi and S'Klallam. It is sung in the Diné language and carries one of our Native teachings about the blessing of the spirit of water through the male and female rains.
We are initiating a small project to rebuild the home of an elderly Navajo couple, who lost their home in a fire two years ago on the Navajo reservation in Whitecone, Arizona. 100% of your donation for downloading this track will go to the construction of this home and to finding a way to bring water to their land.
Through this song, we remember and honor the spirit and sacredness of water. We lend our voices to stand up for the protection and preservation of clean, pure water in all its forms and states of being. By way of the images shared in the video, we hope to illustrate the power and miracle of water, from the thunderclouds and highest snowy mountain peaks, to the waterfalls, rivers, springs and oceans. May the song be received as medicine for our Mother Earth. May it call our attention, once again, to the brilliant journey and wisdom of water as it travels our world, renewing, revitalizing, and supporting all life so generously along the way. May we all come together to reciprocate that generosity by taking care of our sacred waters each and every day. May our awareness, stewardship and actions ensure clean water for today, and for generations to come.
We acknowledge, with immense gratitude, the teachings shared with us by our elders and our ancestors. Knowledge of the sacredness of water, and many other vitally important teachings about life have been preserved and held in the highest regard to this day in certain places around the world. Most often this wisdom has been kept alive among indigenous peoples, who are continuously striving to maintain the languages, cultures, and ways of life that honor living in balance with ourselves, one another and the natural world.
We give thanks to Whiteshell Haskie of the Diné Nation, for participating in this video and representing the hopes we have for our younger generations. May all the children of our beautiful planet be able to grow up with teachings that strengthen their ability to understand the sacredness of water and the interconnectedness of all life. And may they always remember to live with hope, awareness, gratitude, respect, and great care for all life in each and every moment, fully awake.
Director: Matthew Gamlen
Producer: Eric Watson
Production Assistant: Ramona Bradley
Additional Footage: Kent Wagner
Flute Music: Tyler Penor
The 'Water Song' by the Akwesasne Women Singers. The Music Video was produced by Raienkonnis Edwards and the Summer Film Fundamentals Program in Akwesasne Mohawk Nation. Water is precious, we all need to show love for the water.
Song for the Sacred Elements
Published on Dec 6, 2013
This is a song that came to me about 5 years ago when things weren't exactly going the way I had envisioned them to be. I was at one of the lowest times of my life and when that happened I turned especially to the gift I was given and my drum. Rather then thinking about myself in what i was going through, I sat alone and looked towards the sweat lodge near the bushes and thought about what the world was going through. The world as i know it is home to my children, knowing that I am alive and my children are alive, breathing the same air that i breathe.
Life is beautiful. When you look at the trees you see them reaching to the sky giving thanks to the great spirit, they too fall but they keep trying to get back up. They try because they know as little as they are when they grow they have a purpose in life, if they fail to come back to us it is because we failed them.
The water that we drink is as sacred as the woman who carries us, without water we would not survive, without the woman we would not be here. All that our ancestors have believed in is within our grasp and I truly believe are calling us to do what it is the great spirit intended us to do as human beings.
The ways of the Anishanabe people are to listen to the land, love and respect it, there are many different ways we can see and understand Creators love for us all.
Enjoy this song, Ki Chi Miigwetch. Carl Swa